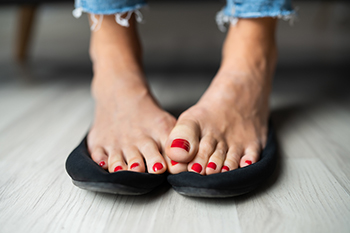 Most people experience sweaty feet from time to time, but excessive sweat under the feet can be a sign of plantar hyperhidrosis. Sweating is a part of our body's way of cooling itself off and managing body temperature. Our feet have more sweat organs per inch than any other place in the body, and they can produce as much as half a quart of sweat per day. When it comes to controlling clammy feet, there are some things you can do for yourself and some things that might need medical attention. Cleanliness, shoes, socks, diet, and anxiety can influence how much your feet sweat. Hyperhidrosis is more common in men than women and in youth than grown-ups. If one has over the top sweating on their feet, it is likely that this happens to their palms as well. Feet that sweat too much may slip around inside of shoes. The feet might also have a whitish, wet appearance, and they may smell. These conditions are conducive to foot diseases, like a fungus. Adolescents are particularly sensitive about this ailment and the related foot odor at their age. To prevent sweaty feet, one should wash their feet regularly, dry them well, apply a moisturizer, and consider using antifungal powder or antiperspirant. Shoes should be rotated between use so that any moisture can dry out. Wearing shoes that are made of breathable material and fit well are imperative. Socks that wick moisture (cotton in warmer months and fleece or wool in cooler months) from the foot should be worn as well. Keep well hydrated. If regular foot care does not control your clammy feet, consult with a podiatrist who can provide additional suggestions for how to prevent and treat this annoying condition.
If you are suffering from hyperhidrosis contact Steven Black, DPM of California . Our doctor can provide the care you need to attend to all of your foot and ankle needs.
Hyperhidrosis of the Feet

Hyperhidrosis is a rare disorder that can cause people to have excessive sweating of their feet. This can usually occur all on its own without rigorous activity involved. People who suffer from hyperhidrosis may also experience sweaty palms.

Although it is said that sweating is a healthy process meant to cool down the body temperature and to maintain a proper internal temperature, hyperhidrosis may prove to be a huge hindrance on a person's everyday life.

Plantar hyperhidrosis is considered to be the main form of hyperhidrosis. Secondary hyperhidrosis can refer to sweating that occurs in areas other than the feet or hands and armpits. Often this may be a sign of it being related to another medical condition such as menopause, hyperthyroidism and even Parkinson's disease.
In order to alleviate this condition, it is important to see your doctor so that they may prescribe the necessary medications so that you can begin to live a normal life again. If this is left untreated, it is said that it will persist throughout an individual's life.

A last resort approach would be surgery, but it is best to speak with your doctor to find out what may be the best treatment for you.
If you have any questions please feel free to contact our office located in Lancaster, CA . We offer the newest diagnostic and treatment technologies for all your foot and ankle needs.
Read more about Hyperhidrosis of the Feet